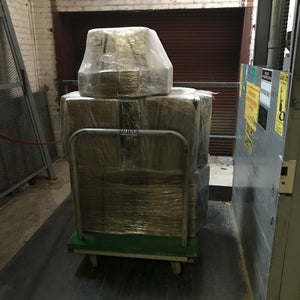 Doomsday + Subversive reissues + COVID delays
Wow. We were floored by the response to our pre-Maryland Sheep and Wool book reissues. Thank you, from the bottom of our hearts! You have all made a material difference in keeping us going despite multiple canceled festivals and more. 
As promised, we counted up the orders after MDSW and placed an order with our printer. A LARGE order. Normally, books ship from them to us within 5 days. We noted their express and rush production options had been removed. It seemed they're short staffed or otherwise operating at less than capacity. Then this morning, two things happened:
We were in the New York Times!
We got an email from our printer saying some orders may take as long as 20 days now. Four times as long as usual!
We apologize for this unexpected delay. While we wait for the books to arrive, we'll be prepping packing slips, shipping labels and everything else so we can get the books out to you as quickly as possible!
The photo here is a huge box of shipping tape and book mailers that just arrived today!
Thank you all so very much for your support. We will keep you updated on any changes. 
---